Recognize this guy? Cheers to those of you lucky enough to have seen Rob Ulsh's back side, in a manner of speaking lol. There is no doubt that if your songs, books, spoken word, or other projects carried you to Rob's studio door; you're now in a family of countless musicians, writers, and producers who thank their lucky stars that they came to him instead of someone else. His ears have years, over 40 in music production. They span from western New York as a rock/pop singer and guitarist to Virginia Beach Virginia where since 1981 this acclaimed engineer and producer has provided the finest in audio production to the Hampton Roads area at his Master Sound Studios.
The "A" list of artists who have employed Rob's services range from Justin Timberlake, Gwen Stefani and No Doubt, Pharrell Williams, Counting Crows, Britney Spears, Prince, Missy Elliott, and Teddy Riley to Glen Campbell, Debby Boone, Crystal Gayle, Eddie Rabbitt, Phil Keaggy, Greg Nelson, Michael Bivens, Brent Havens, LL Cool J, Ludacris, and many local and regional artists.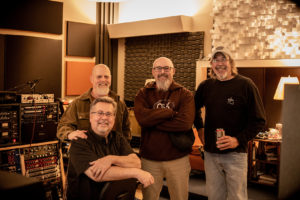 Faithful Kate would not have the album that we envisioned without Rob Ulsh, that much we are sure of. It's been an absolute magic carpet ride for us. It took us over 25 years to get around to producing our first album, Classic, and we're convinced that those years were all somehow part of Rob's perfectly timed synergistic plan to work with us someday 🙂 You are the best Rob, thanks for a cracking job!
Lee, John, Ron ~ FAITHFUL KATE